The Technology That Goes Into Making A Parade Float
"Throw me something mister!" is something New Orleanians learn to yell at riders of parade floats at an early age. For the two weeks leading up to Mardi Gras each year, we do a lot of catching—beads, doubloons, cups, stuffed animals, even coconuts! We love our parades, both as spectators and as riders.
For over a hundred years, the design of carnival floats didn't really change. The Mystick Krewe of Comus began with two floats built on cotton wagons. To this day, the "old line" krewes still build their floats on wagon platforms. This works fine when a krewe doesn't plan to put more than 6-10 people on each float. The "super krewes," such as Endymion, Bacchus, and Orpheus, however, need a bit more support than what an old wagon can deliver.
The modern carnival float needs to hold anywhere from 20 to 100 riders, and all the stuff they throw. A simple wooden frame won't handle all that weight, so today's floats start with a steel skeleton built on top of sturdy axles and heavy-duty tires. Before the artists get their hands on them, a "parade float" doesn't look a lot different than the "truck floats" you see on Mardi Gras in the Elks and Crescent City parades. Just like a trailer a big rig hauls across the country, the float is designed to haul heavy loads.
And don't forget all the beer!
Here's the trick, though. We expect more of a show from our "regular" parades than we do from the "truck" parades. We want a spectacle along with our beads and doubloons. Once the float's skeleton is complete, a second frame is built around it, this time made of wood. This frame isn't the simple box of the steel skeleton, though. The wood frame will be uneven, wider in some spots than others, while still meeting the specifications necessary to make it through the streets of New Orleans on parade night. This uneven-frame design has been around all the years of the cotton wagons. It's what turns the floats into flights of fantasy. Once the wood frame is built out around the secure skeleton, it is covered in wire mesh, and the creative process truly begins. Floats are paper-mache creations, works of art in plaster. The wire frame is covered over and whitewashed, a canvas to become a scene from mythology or a platform to feature a figure from history or a politician being satirized.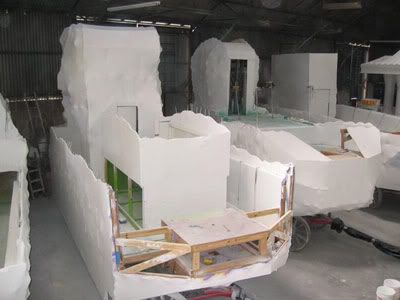 The white-plaster float is then turned over to the painters. They've already worked with the krewe to transform the parade's theme into sketches and concept drawings. Now they take those drawings and make them a three-dimensional, full-sized reality. Rollers, and paintbrushes go to work to get the basic color scheme down. Once that's done, artisan brushes and air-brushes apply the details. Soon, those white shells tell a story.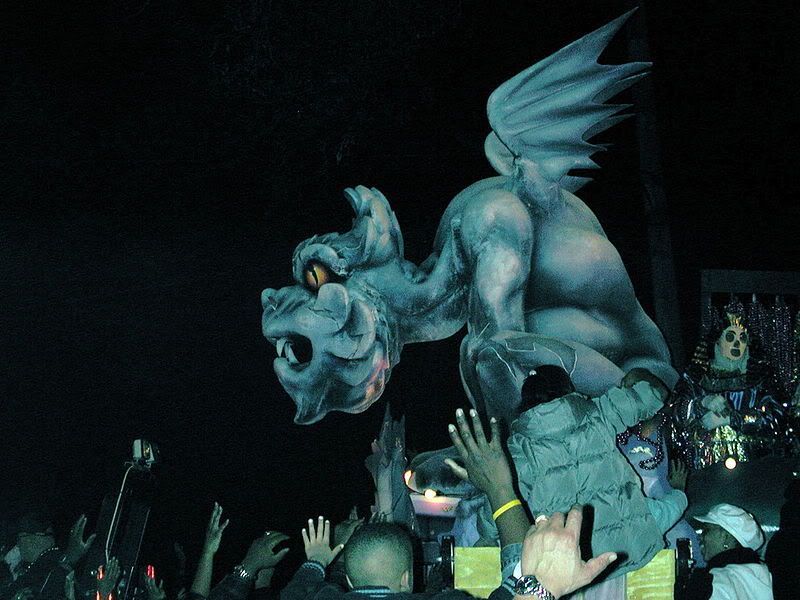 Floats have had decorations and props on them for decades. The problem with classic figures on floats is that wood and plaster make a float top-heavy. That forced designers to limit the size of figures, or to keep them in the center of the float. Modern plastics and fiberglass now give float artisans more options. Lighter weights mean a figurehead can now extend dramatically from the front of a float, a bird's wings can spread and soar, or flowers can shoot from a vase. These props and figures are essential for day parades in particular. Organizations like the Krewe of Mid City use colored aluminum foil to improve the reflective quality of their floats. "Day glo" paints now add to the spectacle, enhancing the daytime show.
The day parades are wonderful family events, but it's the night parades that make carnival time in New Orleans special. Dating back to that first Comus parade, floats were accompanied by torch bearers, then eventually the "flambeaux" carriers. The classic flambeaux kit was a bucket of kerosene attached to a wooden pole. Gravity fed the fuel into burner spouts. Light the fuel and march! As illumination technology developed, railroad/highway flares were also used to light the floats.
It wasn't so much electricity as the gas-powered generator that changed float lighting. Instead of external lighting, the floats themselves could carry incadescent light bulbs. Some krewes, such as Hermes, and Zeus out in Metairie, designed floats with neon lighting as well (Greek gods and their lightning bolts). A number of parades kept the flambeaux carriers out of tradition, but lighting was no longer a problem.
An even newer technology development raised the bar on float illumination when the Krewe of Orpheus introduced their "Leviathan" float in 1998. Leviathan was the first float to incorporate optical-fiber lighting. Combined with microprocessor control, fiber-optics make for a very other-worldly effect on something we locals have known all our lives.
Happy Mardi Gras!
---
---
---